WHAT
Open Enrollment is your annual opportunity to review your UC benefits and explore your options for you and your family to make sure you have the best coverage for 2023.
Visit the UC Open Enrollment website to learn about changes.
WHEN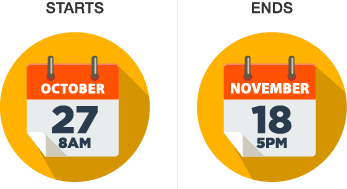 WHO
All UCI Faculty*
All UCI Staff*
Retirees
* NOTE: Open Enrollment does not affect resident physicians. Click Here for postdoctoral Scholars open enrollment information
PRESENTATIONS
Do you have questions about Open Enrollment or the health plan changes? Watch our recorded presentations by Kwame White, UCI's Health Care Facilitator (HCF), for a general overview and highlights of Open Enrollment 2023 along with where to find addition resources and events.
Retiree Presentation:
Watch recorded webinar
Passcode: x8#dr!mZ
Faculty/Staff Presentation:
Watch recorded webinar
Passcode: A5.YzU&0