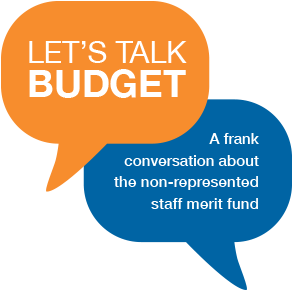 According to the feedback from the surveys and focus groups, the number one change both staff and supervisors recommend for next year's merit program is more funding. More funding to provide all employees with at least cost-of-living increase and then allow managers to reward performance.
While we understand the concern, in the case of merits, UCI was right at market.
According to the 2016 Salary Budget Survey conducted by Culpepper and Associates and the 2015-16 WorldatWork Salary Budget Survey, the 2016 projected average base increase for the Los Angeles-Long Beach area was 3%.
In addition, CPI (Consumer Price Index) for the Los Angeles-Riverside-Orange County area was 1.7%. CPI measures changes in the price level of a market basket of consumer goods and services purchased by households in the area.
This means that the fund allocated to departments for merit awards was comparable to what other organizations were using, and UCI employees who were at least On Target received at least an increase comparable to CPI.
Since previous 3% funds were typically distributed in an across-the-board fashion to all employees regardless of performance, it may have seemed like employees who received less than the 3% fund amount received less than "cost-of-living"; however, employees who were On Target or Above Target received at least 1.5%. While within .2% of the local area CPI, direct cost increases affecting you means that 1.5% will feel different for every individual.
In the end, the difference in increases between On Target and Above Target performers averaged 1% at campus and 1.3% at medical center, allowing our supervisors and managers to successfully differentiate merit awards based on performance.