WHAT
Open Enrollment is your annual opportunity to review your UC benefits and explore your options for you and your family to make sure you have the best coverage for 2019.
Visit the UC Open Enrollment website to learn about changes and the steps to take if you decide to change your benefits.
WHEN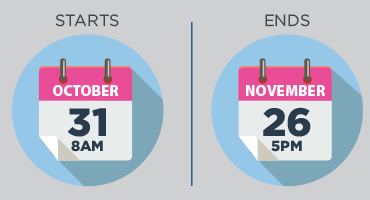 WHO
All UCI Faculty*
All UCI Staff*
*NOTE: Open Enrollment does not affect resident physicians. Click here for postdoctoral scholars open enrollment information.


Registration is not required for fairs and general information sessions. To join an online Zoom session, click on the desired session on the date and time indicated. No prior registration is required.
HELPFUL RESOURCES
Tips for Choosing a Medical Plan